PRESS ARCHIVE

Graphic Poetry, Viction:ary, by Wig-01, selection of international writers, designers, typographers and illustrators, featuring FL@33's Sky World contribution, pp.52–53, Hong Kong, April 2005 (English)
___


CLICK TO SEE COVER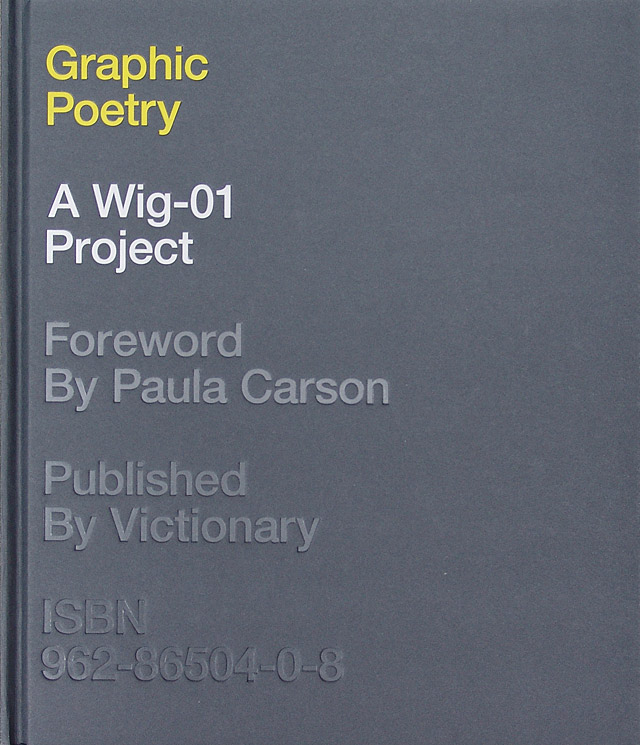 GRAPHIC POETRY BOOK CONTRIBUTION
FL@33 was invited to create one double-page spread illustrating a poem by Barbara Hilal for the book project Graphic Poetry.
___ The book was compiled by Wig-01 and features a selection of international authors, designers, typographers and illustrators (see details below).

SKY WORLD BY BARBARA HILAL
White cotton candy clouds of spun sugar
light blue mint sky
heavenly artificial strawberry flavored hills
grey cloud bearded man
floats and disintegrates
CLICK FOR MORE INFO | CONTRIBUTORS AND OFFICIAL SYNOPSIS

OFFICIAL SYNOPSIS
Graphic Poetry - A Wig-01 Project. Edited by Victionary and Wig-01. Viction:ary is pleased to announce the spring 2005 publication of Graphic Poetry by Wig-01. Graphic Poetry is a book of modern poetry from contemporary writers around the world.
___ Leading international designers, illustrators and image makers accepted the challenge of creating a visual response to these poems, their ideas running through the book in a series of double page spreads. With its diverse mix of styles and ideas, Graphic Poetry is an unique volume, which will delight both the eye and the mind. Over fifty designers/illustrators have produced original artwork for Graphic Poetry including: Big Active, Blue Source, Marc Boutavant, Build, Delaware, Marion Deuchars, eBoy, Fellow Designers, FL@33, Michael Gillette, Happypets, Angus Hyland, Intro, Alan Kitching, Non-Format, Phunk Studio, Powergraphixx, Rinzen, Tomato and Why Not Associates.
___ The Foreword is written by Paula Carson, deputy editor of international communication arts magazine Creative Review.

GRAPHIC
A2-Graphics/SW/HK, Alan Kitching, Angus Hyland/Pentagram, Anthony Burrill, Big Active, Billie Jean, Blaise Thompson, Blenkin, Blue Source, Build/Michael C. Place, Collider/Andrew Van der Westhuyzen, DED Ass., Default, Delaware, eBoy, Eg.G, Fellow Designers, FL@33, Francis Lam, Happypets Products, Hyperkit, Intro, Joel Lardner, Jordan Crane, Keep Left, Lucy Vigrass, Marc Boutavant, Marie O'Connor, Marion Deuchars, Mathematics, Michael Gillette, Michelle Thompson, Neasden Control Centre, Non-Format, Norm, Output, Phunk Studio, Power Graphixx/Masahito Hanzawa, Red Design, Rick Myers, Rinzen, Roderick Mills, Sam Winston, SEA/Bryan Edmondson, Spin, Stapelberg & Fritz, Struktur, Sweden Graphics, Syrup Helsinki, Tnop Wangsillapakun/, ®bePOS|+|VE, Tom Merckx, Tomato/Simon Taylor, Tristan & Justine Dellaway, Un.titled, Why Not Associates, Wig-01, Zip Design.

POETRY
Ainsley Burrows, Amy Ritchie, Barbara Hilal, Barbara Jane Reyes, Brian Burch, Catherine (CJ) Heck, Catherine Simmonds, Christine Boyka Kluge, Conner Kilmer, Daniel Abdal-Hayy Moore, Delaware, Ellia Bisker, Eunice Biasbas, Gabriel Ariel Levicky, Gilbert Koh Chin Wang, Ian Chung, James Von der Voelsungen, Jee Leong Koh, Joe Rathgeber, Kaethe Fine, Luis Cabalquinto, Maureen McManus, Mike Higgins, Ray Hollingsworth, Richard Fein, Sam Winston, Simon Barraclough, Simon Taylor, Siok Tian Heng, Tykal/Ricky Ray.

SELECTED STOCKISTS
amazon.co.uk
amazon.com
amazon.ca
amazon.de
amazon.fr
amazon.co.jp

SPECS
Hard cover with cloth-bound slipcase
Full colour throughout
160 pages
240 x 280mm
ISBN: 962-86504-0-8
US $ 45
Released: April 2005
English edition
Viction:ary