PRESS ARCHIVE

Adidas: Adicolor / Toy2R DIY Qee Expo catalogue, featuring FL@33's customised toy Mr. Set Letradidas and a FL@33 profile, p.19, Hong Kong, January 2006 (English)
___


CLICK TO SEE COVER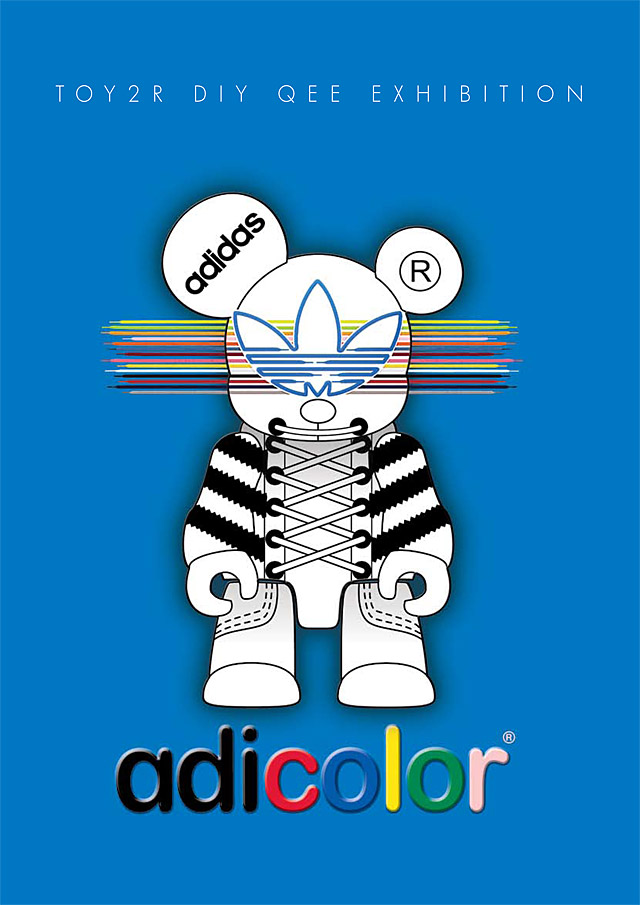 TOY2R | CUSTOM ADIDAS QEE
Another designer toy FL@33 customised for Hong Kong-based Toy2R. This time they invited us to customise an 8" (20.3cm) Adidas Qee that we then called Mr Set Letradidas.
___ The customised toys were first publicly shown at the Adidas Adicolor launch exhibition during the Bread & Butter trade fair in Berlin, Germany, 28–29 January 2006.
___ At this occasion the exhibition catalogue (shown here) was published presenting the 40 or so Toy2R Qees. All artists and designers are profiled next to pictures of their custom toys.
___ Original catalogue text: Ingredients / how to – take 3 stripes, one teaspoon of 80s, a handful of Toy2R, then mix well for about 1 hour with Adidas, slowly add 1kg of FL@33, let it mature over night. Then – decorate with Letraset and serve hot. Guten Appetit!