PRESS ARCHIVE

Fredrigoni 365, calendar and design compendium 2022, with FL@33 contribution: 19 June by Tomi Vollauschek, London, UK, 1 January 2022 (English)
___


CLICK TO SEE THE COVER, SLIPCASE AND THE FOUR 2022 VOLUMES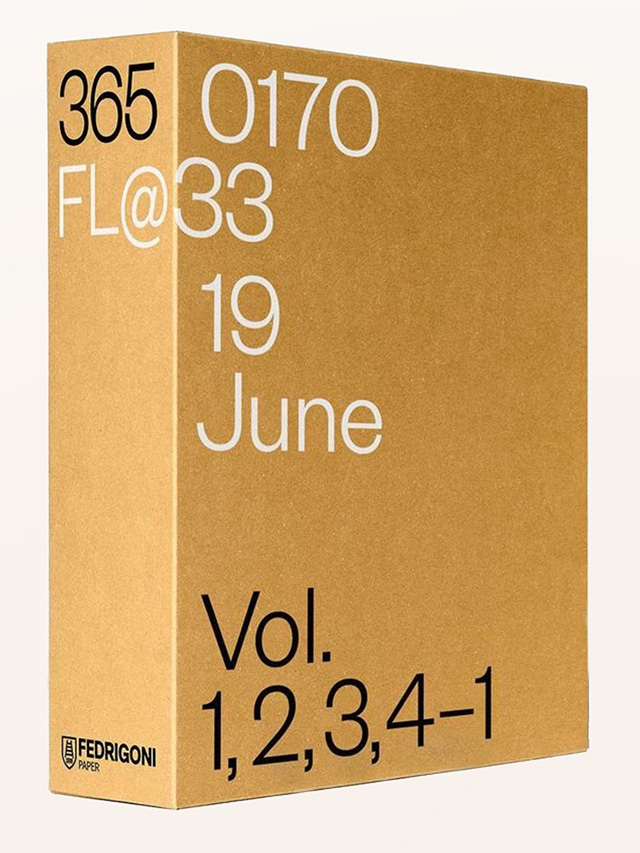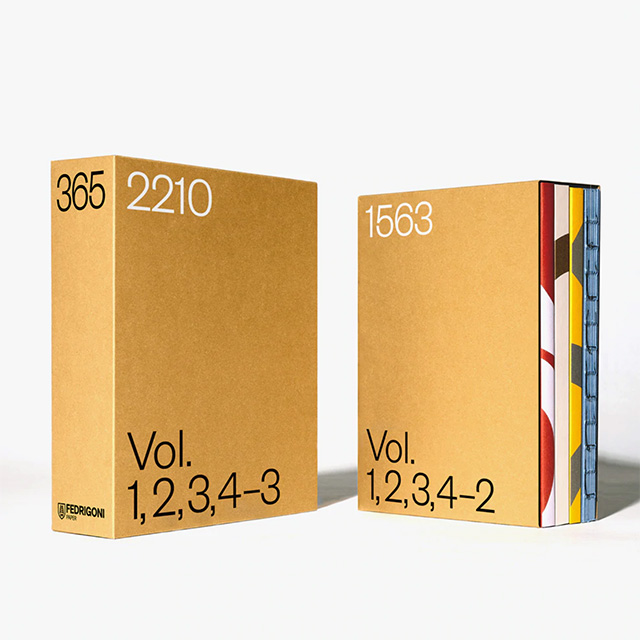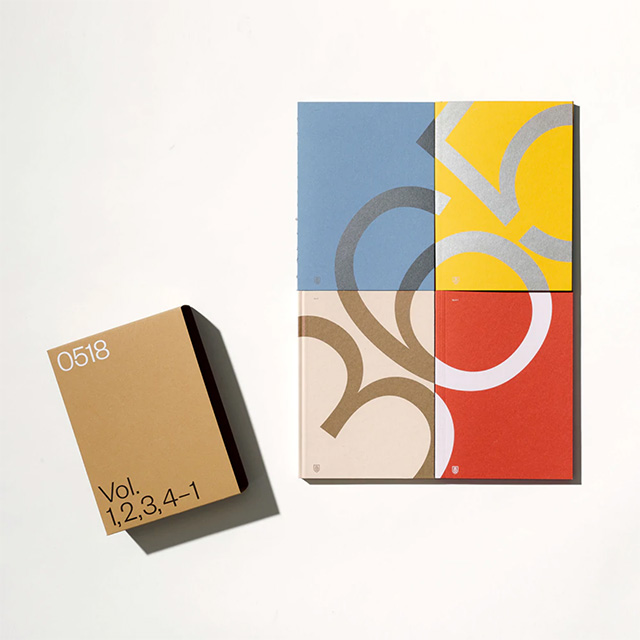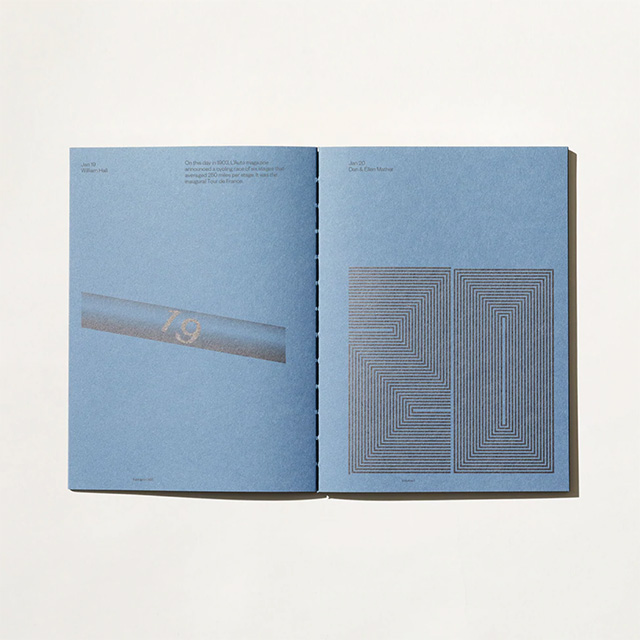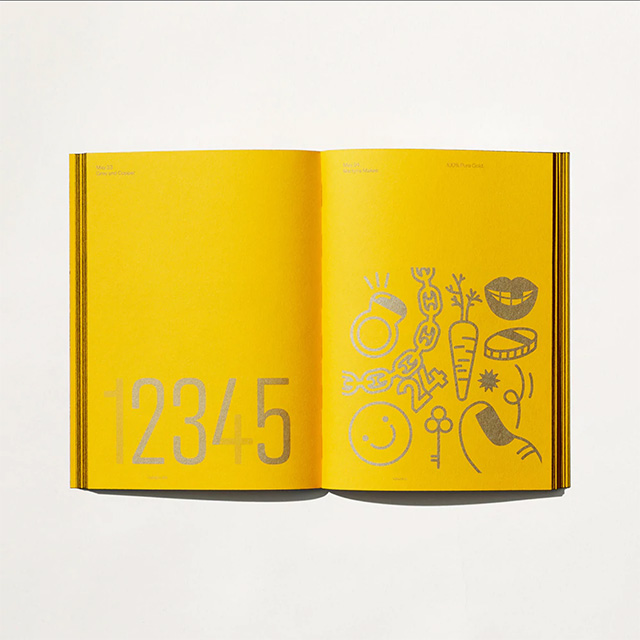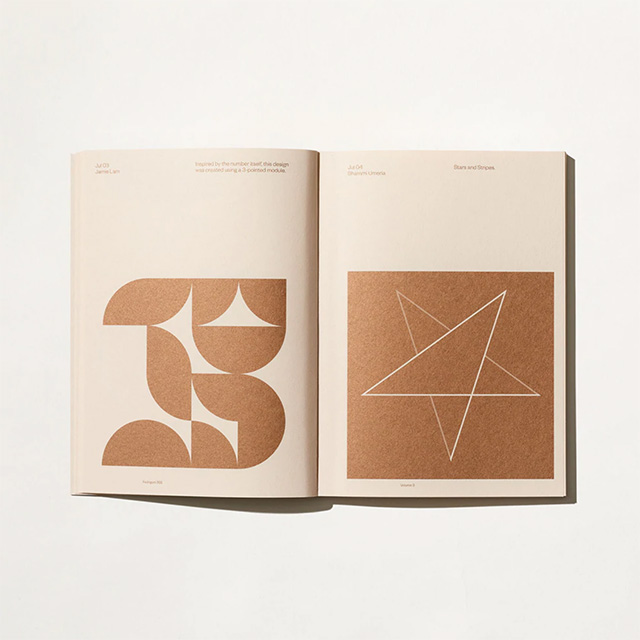 FEDRIGONI 365 | CALENDAR 2022 | DESIGN COMPENDIUM
Following Agathe and Tomi's five previous contributions to the Fedrigoni 365 calendars in 2018, 2019, 2020 and 2021 by Italian paper company Fedrigoni, FL@33 was kindly included for a fifth year running, possibly as the only invited contributor to all five calendars so far (tbc).
___ FL@33's Tomi Vollauschek contributed a typographic experiment of the allocated number 19 (June).
___ Many hundreds of contributions by artists, designers and studios form once again the beautifully designed and produced calendar and design compendium Fedrigoni 365 (2022).

FL@33 CONTRIBUTION | 19 June 2022
As printed in the publication: The Roman numeral for 19 is XIX – a rather beautifully symmetric typography gem to play with. Given that XIX consists of three elements, FL@33's Tomi Vollauschek projected the letterforms into a white corner of a room to explore the spatial qualities of the distorted shapes across three surfaces.
___ The intriguing results are funnily enough in a similar vein to the cover treatment shown here and the way FL@33 is printed on this customised and numbered slipcase.

PROJECT DESCRIPTION
Fedrigoni 365, designed by TM for Fedrigoni UK, started five years ago as an unprecedented collaboration involving designers, illustrators and photographers from throughout the UK, gathered together by an open call for entries.
___ Now in its fifth year, the book has once again managed to pull together hundreds of creative masterminds. Previous editions of the publication have put the spotlight on select stocks from Fedrigoni's vast range of papers, from an entirely black book in 2018 to an entirely white edition in 2019, followed by a recycled rainbow of colours in 2020 and a digitally randomised explosion of colours in 2021.
___ The 2022 copy that was assigned to FL@33 and that prominently features our name on the publication's slipcase is number 0170.


CLICK TO SEE THE OFFICIAL BRIEF
Your date: 19 June – Your volume: This edition consists of four volumes. Your design will be in Volume 2. – The deadline: 10pm, Sunday 22nd August 2021
___ Brief | We would like you to interpret the number that has been allocated to you. This could be either a literal or an abstract interpretation. For example, if you are given 7 February, you will be expected to interpret the number 7. Please do NOT include ordinal indicators, i.e. do NOT include abbreviations such as 'nd', 'th', 'rd' or 'st' in your design. Your design can be influenced by anything to do with the given number, date or time of year, but please keep in mind that we want this to be a book of numbers, or graphics influenced by numbers. Your allocated number should be a core element of your design. This year the calendar is broken down into four Volumes and held in a slip case. Your design is to feature in Vol.2, with a specification as follows: Materica Terra Gialla Printing PMS 8400 C (Dark Metallic Silver).
___ Artwork | Please follow the below specifications. Document Size 132 x 132mm, no bleed Formats Depending on the content of your artwork please save in one of the following ways: Raster based If your artwork contains ANY raster data (pixel based data) it must be supplied as a one colour greyscale TIFF. In Photoshop go to Image > Mode > Greyscale then save your file. Vector based If your artwork is pure vector data (i.e. type and control points etc.) it must be supplied as a PDF. Please save as PDF/X-4:2008. Colour All designs are to be reproduced in one colour. All artwork to be set in PANTONE+ Metallic Coated 8400 C.
___ Submit | (...) You will be asked for details relating to your entry and the option to include up to 50 words to accompany the design.

CHARITY
All profits from previous editions have been donated to charity, so far raising over £20,000.

STOCKIST
Counter-Print


SPECS
English
165 x 220mm
£17.50
Published 2022
TM for Fedrigoni UK
CLICK TO SEE PAPER SPECS
Fedrigoni 365 (2022) | Vol. 1
Hampton Printing Paper:
Materica Acqua
250gsm/ 120gsm
Printing: Heidelberg XL 106,
Pantone 8404
Binding: Exposed Sussex Bound
Edging: Gilt-edged silver
—
Fedrigoni 365 (2022) | Vol. 2
Team Impression
Paper: Materica Terra Gialla
250gsm/ 120gsm
Printing: Komori G40,
Pantone 8400
Binding: Swiss Bound
Edging: Flexographic colour
—
Fedrigoni 365 (2022) | Vol. 3
Kingsbury Press Paper:
Materica Quarz 120gsm
Printing: Heidelberg CX102,
Pantone 874
Binding: Casebound
Edging: Exposed
—
Fedrigoni 365 (2022) | Vol. 4
Screaming Colour / HP Paper:
Materica Terra Rossa
250gsm and Gesso 120gsm
Printing: HP Indigo, Digital silver
Binding: OTA Bound
Edging: Digital edge printing
—
Slip case Screaming Colour / HP
Paper: Materica Kraft 250gsm
Printing: HP Indigo – Black and White
—
All book finishing Diamond Print Services LtdM
PICTURE CREDITS
The pictures of the volumes were taken and provided by the book designers TM.