PRESS ARCHIVE

Creative Review, creativereview.co.uk, Ten years of button badges, Stereohype 2004-2014, with interview excerpts, by Rachael Steven, London, UK, 20 October 2014 (English)
___

Archive copy of: creativereview.co.uk/...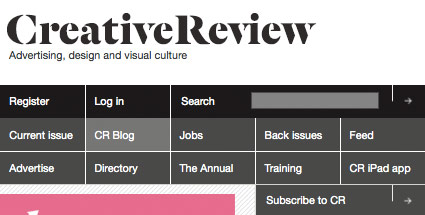 TEN YEARS OF BUTTON BADGES | STEREOHYPE 2004–2014
Ten years ago this month, London t-shirt and badge label Stereohype launched its first annual button badge design competition. With an exhibition of over 1000 submissions on display at LCC and a new monograph on the project just published, we asked co-founder Tomi Vollauschek about visual trends in badge design, and whether it's still a popular medium for graphic artists.
___ Stereohype was founded as an experimental offshoot of Vollauschek and Agathe Jacquillat's London design studio FL@33 in 2004, and sells T-shirts and badges designed by new and established artists. Each year, it runs an online badge design competition, judged by an industry panel, with winning contributions sold via the label's website.
___ Vollauschek and Jacquillat also add their own designs to the site, as well as an annual 'By Invitation Only' series. Over 1000 designs are now featured in an exhibition at London College of Communication – one of three shows launched at the college during London Design Festival (see our blog post on them here) – and a monograph, Stereohype: 2004-2014.
___ As an introduction to the monograph notes, badges have been a popular medium of expression since the invention of celluloid in the late 1890s. Over the years, they have been used to communicate political ideologies, promote good causes and display allegiances to bands, brands or clubs and as they are easy and cheap to produce, have long been popular with designers, artists and illustrators.
___ "It's a fantastic medium" adds Vollauschek. "We call them mobile mini canvases but really, they have more in common with a poster design or stamp than a painting. The core message for example – if there is one to communicate – must be delivered directly and appropriately. As fashion accessories they are of course amazing, too, as you can playfully add and change them according to mood and occasion," he says.
___ Button badges aren't quite as popular today as they were in the 1970s and 80s, during the height of the DIY punk aesthetic, but they're still sold at major galleries, from the Tate to the Wellcome Collection, and Stereohype continues to receive hundreds of submissions to its competition each year.
___ "Fashions come and go, of course, and demand has had its ups and downs, but one thing we learned about selling badges over a period of ten years is that people never seem to grow tired of button badges, and happily reward themselves, friends and family with these cute little wearable artworks," he says.
___ The label's all-time most popular designs, however – Richard J Kirk's Sorry I'm Late; FL@33's VIP and Shen Plum's Coloured Mesh (below) – are from one of its earliest series.
___ While designs vary enormously each year, Vollauschek says there are some recurring motifs: "Eyes, buttons and of course skulls never go out of fashion. Cats and dogs are very popular, so are references to tea and/or coffee drinking – no surprise then, that Monika Mitkute's badge of a cat holding a mug (below) is one of our best sellers," he says.
___ "Overall, a trend towards the extra-silly and rougher doodle like designs seems to be increasingly popular, and comfortably stands its ground next to slicker visual executions and more minimal, conceptual designs."
___ One of Vollauschek's favourite designs is Jody Barton's I Hate Dolphins - "I am still fascinated by it, as it offends pretty much everybody," he adds.
___ For this year's B.I.O. series, Stereohype invited Caetano Calomino, Dina Silanteva, Emmi Salonen, Henrik Birkvig, Julian Morey, Matthew Kenyon, Neringa Plange, Paul Jenkins, Russell Weekes, Sawdust, Studio Gpop, Tara Hanrahan and Tower Block Books aka Amandine Alessandra and Rute Nieto Ferreira to submit badges (you can see the full set here).
___ The label also commissioned ten creatives to design a badge and poster to celebrate its anniversary, inspired by the number 10 and/or 1000, or 10x10. The collection includes designs by Daniel Eatock, Deanne Cheuk, Jacquillat, Genevieve Gauckler, Ian Wright, Michael C Place, Richard J Kirk, TwoPoints and Vaughan Oliver. A1 prints are available in editions of 10, priced at £350 each.
___ While larger runs of its badges are manufactured abroad, Stereohype still produces limited editions in-house, using the same machine it set up shop with. This year, its annual competition is open to visitors to the exhibition, who are invited to submit hand-drawn designs manually via a ballot box, but next year's will again be held online, and Stereohype is launching a new website later this year to better showcase its collection. "The anniversary show certainly encouraged us to continue extending our collection," adds Vollauschek.
___ Stereohype 2004-2014 is on display at LCC until – extended to – Saturday 8 November (was Friday 31 October). The monograph is priced at £10. For details, see stereohype.com.


CAPTIONS
1| Stereohype's exhibition at LCC |2| Badge designs by Tower Block Books, Matthew Kenyon, Paul Jenkins, Sawdust, Russell Weekes Caeteno Calomino and Studio Gpop for Stereohype's B.I.O. 14 series |3| Designs by Alan Kitching, Vaughan Oliver, Deanne Cheuk, Ian Wright and TwoPoints (see here for the full set)