PRESS ARCHIVE

Computer Arts Project, 130, December issue, Underground Inspirations, by Lawrence Zeegen, p.58–64, FL@33 / Stereohype feature, featuring various Stereohype products,
+
p.63, Inspirational Books: Made & Sold review, pp.94–95, London, UK, November 2009 (English)

download article pdf, approx. 0.7mb
___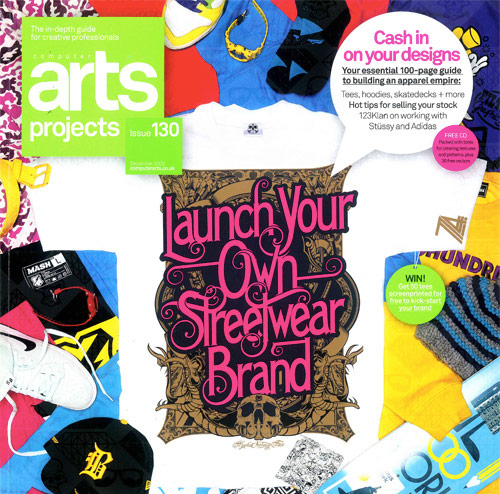 UNDERGROUND INSPIRATIONS (SEE ALSO MADE & SOLD REVIEW)
Intro: Lawrence Zeegen meets the studios soaking up their cultural surroundings to create fresh styles of apparel.
There's a burgeoning global subculture for designers and illustrators to break from commercial conformity, and delve into the underground world of street fashion. Non-fashion-trained designers can utilise their own raw talent, spot a gap in the zeitgeist and design for one-off, bespoke fashion pieces, limited-edition tees, buttons, badges and hats – and then rapidly, through a network of online and offline retailers, have their wares hit the big time almost overnight. With so many players in the game,...
(...) CONTINUE READING
(...) CONTINUE READING**
...no longer can fashion or textile designers remain ahead of the curve without investigating and instigating new modes of self-expression through apparel design. Design it, print it, upload it, flog it and post it – simple as that. The humble T-shirt has become the canvas of choice for a new wave of designers, and unsurprisingly this brave new world of undercover urban street fashion has gone global. Across Europe, North and South America, and Asia, inspired by their own cultural surroundings and creative peers, designers are creating works that reflect their unique corner of the planet. Forging their own visual signatures and styles, these are the studios with one fi nger on the pulse and another finger in the pie. Over the next few pages we introduce the movers and shakers of the underground apparel elite, who are prepared to break rank and break free.

(EXCERPT) EAST LONDON | FL@33
Outside of Berlin, so urban myth would have us believe, East London has the highest proportion of artists living and working within a concentrated urban area. They once flocked to the area because of the promise of cheap rents; now they arrive to become part of a rapidly growing scene. Galleries, pop-up stores and independent boutiques have multiplied year after year and Clerkenwell, EC1 – once home to the left-field fashion elite – has almost been vacated as the continued push further east has gathered more and more momentum. But Clerkenwell, despite having lost its crown to the younger and altogether hipper Hoxton, can still punch above its weight. Here, a slightly more mature design scene – think ageing heavyweight rather than upstart bantamweight – has been going from strength to strength. And it's here that you'll find FL@33, a multi-disciplinary visual communication studio, founded in 2001 by Agathe Jacquillat from Paris and Tomi Vollauschek from Frankfurt. More importantly, FL@33 is home to its sub-brand (or sister company) Stereohype – a graphic art and fashion boutique, which opened its virtual gates in 2004.
___ Since then it's gone about disturbing the peace by acting as a platform for a global list of designers and illustrators, enabling them to promote their work and have their artworks and apparel produced, featured and marketed. Vollauschek explains the philosophy behind the brand: "We are constantly featuring new and emerging designers and ensuring that we make frequent updates. Thus we can guarantee that the Stereohype range remains appealing to its critical and demanding customers."
___ Stereohype's annual button badge competition and design initiative, mysteriously named B.I.O., invites participants to create 'mobile minicanvases' and, to date, has resulted in over 500 different designs. Available to purchase online or through a network of tip-top stockists that include Tate Modern, the Design Museum and ICA in London, plus Colette and the Pompidou Centre in Paris, the company has clearly opted for cool outlets to get products to their customers.
___ Stereohype products are a creative outlet for a studio intent on working to the guiding principle of the 'power of three'. "It's a theory that we learnt about while we were both studying at the Royal College of Art," explains Jacquillat. "It is simply the balance of intellect, skill and emotion and underpins our design approach."
___ Equally inspired by both their immediate environment – "Clerkenwell is certainly an inspirational and enjoyable place to live and work in" – and their regular travels abroad to Switzerland, Italy, France and Germany, for both business and pleasure, the FL@33 founders maintain an enviable life / work balance. Neither leading a scene, nor following one: it is clear that Jacquillat and Vollauschek will continue to forge a distinctive creative direction of their own.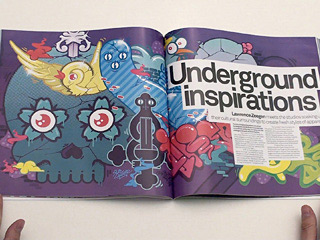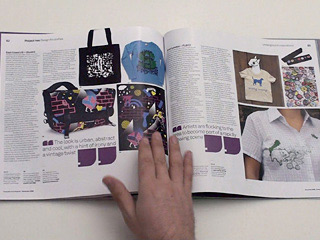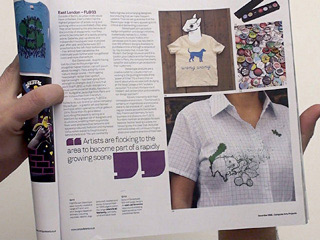 CAPTIONS
|10-11| FL@33's own Stereohype label recently created a range of T-shirt and shirt designs based on animals, including squirrels, rabbits, dogs (pictured), roosters and ducks. Screenprinted on 100% organic cotton, the range caters to all the family, with baby, child and adult sizes. |12-13| Some of Stereohype's 500-odd badge designs. An open call for entries helps source emerging talent as well as more established names.
ADDITIONAL MADE & SOLD BOOK REVIEW IN THE SAME ISSUE
The true beauty of self-initiated artwork and its different applications is captured here quite brilliantly by the creative team behind FL@33, and its various online guises. This title collects together work from the likes of TADO, Jon Burgerman, Jeff Bowman and Mike Perry, with their designs for T-shirts, 'zines, coffee mugs, bags and badges all displayed upon lavish spreads with accompanying information. The result is a spellbinding showcase of applied artwork, which captures the quirky and collectable nature of the products on display.
Made & Sold
Authors: FL@33, Tomi Vollauschek and Agathe Jacquillat
Publisher: Laurence King
Price: £19.95
ISBN: 978-1856696289