CULT STREETWEAR | BOOK DESIGN
Cult Streetwear by Josh Sims is the sixth book FL@33 designed for London-based publisher Laurence King.
___ First published in March 2010 we started designing Cult Streetwear back in 2008 and it was finished in 2009. The book features pioneering streetwear brands since the late 1980s and from around the world and tells their individual stories.
___ A particularly challenging task for us was to create consistent and harmonic combinations of the extraordinarily wide range of different visuals that are featured throughout the book – including black and white photographs such as historical pictures of old factories that now all sit comfortably and side by side to colourful contemporary ads, product photographs and illustrations.
___ Appropriately the final layout follows a more neutral, minimal visual approach – allowing the brands' history to present itself and let the variety of visuals and the individual journeys through time do the talking across the allocated spreads.
___ The book features a cover by long-time-collaborators 123Klan.
___ A mini-edition (80% of original size) with alternative cover was released in August 2011.


CLICK TO SEE COVER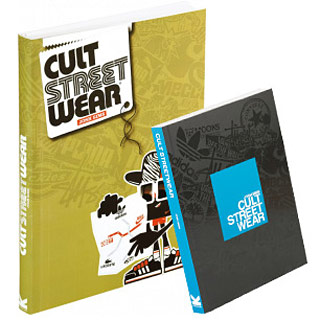 CULT STREETWEAR | OFFICIAL BLURB
Streetwear is a global phenomenon. The leading streetwear brands, which have their origins in American workwear, west coast subcultures and extreme sports, are influential beyond the sphere of fashion alone. Incorporating the best graphic design, they have forged connections with the worlds of art, music and advertising that make them as powerful as designer brands many times their size.
___ Showcasing 32 cult streetwear brands, this book focuses not on me-too labels but the exciting pioneers that have shaped the market since the 1980s. Cult Streetwear tells the stories of the people behind the brands – from LA to NYC, London to Tokyo, these are the entrepreneurs, graffiti writers, DJs, surf dudes and sneaker freaks who have changed the face of street fashion.
___ Featured brands: Addict, Adidas, A Bathing Ape, Ben Davis, Billionaire Boys Club, Burton, Carhartt, Converse, Dickies, Evisu, Fred Perry, Fuct, Goodenough, Lacoste, Maharishi, Mambo, Mecca, Mooks, Neighborhood, Nike, Obey, One True Saxon, Puma, Red Wing, Spiewak, Stussy, The Hundreds, Timberland, Triple 5 Soul, Vans, X-Large and Zoo York.

LAURENCE KING PUBLISHING | FL@33 COLLABORATION

Previous FL@33-designed books for Laurence King Publishing included the internationally successful 200% Cotton – New T-Shirt Design (2004), its sequel 300% Cotton – More T-Shirt Design (2006), the best-selling Patterns – New Surface Design (2007/2012) and Cult Streetwear (2010/2011).

___ In addition to designing books FL@33 also conceived, compiled, wrote and designed books in collaboration with Laurence King Publishing. The first book was Postcard (2008, Available editions: English: Laurence King Publishing, German: DuMont, French: Pyramyd and Spanish: Gustavo Gili), followed by Made & Sold (2009) and more recently The 3D Type Book (2011).

SELECTED STOCKISTS
Original English edition, Laurence King (2010)
amazon.co.uk
amazon.com
amazon.ca
amazon.de
amazon.fr
amazon.co.jp

SELECTED STOCKISTS
English mini edition, Laurence King (2011)
amazon.co.uk
amazon.com
amazon.ca
amazon.de
amazon.fr
amazon.co.jp

SPECS
Paperback
900 illustrations
208 pages
Original edition — March 2010
292 x 220mm
ISBN 9781856696517
£19.95
Mini-edition — August 2011
205 x 154mm
ISBN 9781856698177
£9.95

Laurence King Publishing