PRESS ARCHIVE

Emerging Designers 2004, exhibition catalogue of nominated designers for GraficEurope conference in Berlin, Germany, limited edition: 1,000, October 2004 (English)
___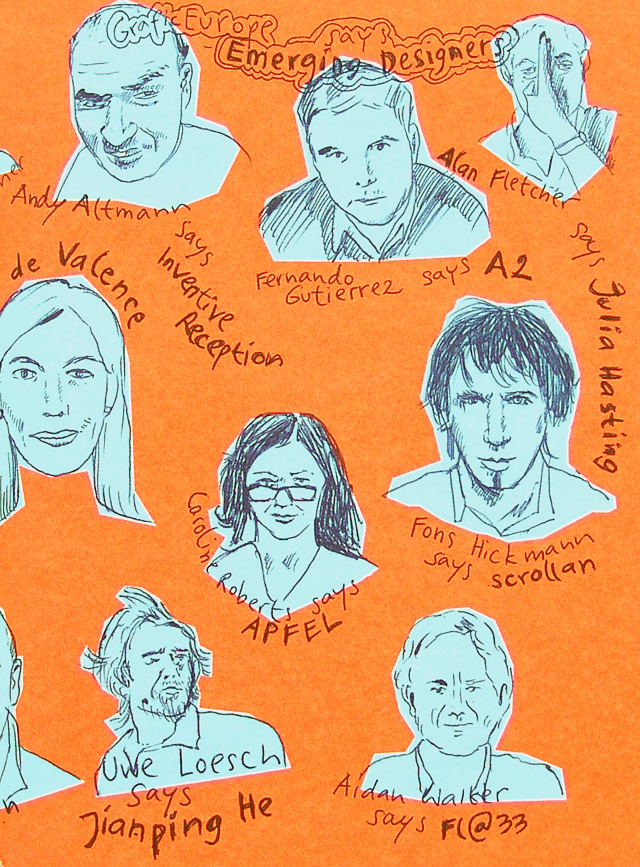 FL@33 PART OF EMERGING DESIGNERS 2004
FL@33 was nominated by then editor in chief at RotoVision Aidan Walker to be part of the Emerging Designers 2004 exhibition at the GraficEurope conference in Berlin. The exhibition catalogue featured FL@33's Trans-form magazine and a rather trashy FL@33 portrait – only topped a few years later by Antoine+Manuel's attempt for the TwoFaced project.

EMERGING DESIGNERS 2004 CATALOGUE | FL@33
FL@33, Tomi Vollauschek, Agathe Jacquillat, flat33.com | What motivates us? At the RCA, we heard about the theory and philosophy of the 'Power of three'. It says that work should be created using an equal balance of brains, hand and heart. We always try to keep that in mind.

CAPTION
Self-initiated architecture, art and design publication titled Trans-form, Trans-it, trans-port.org, London 2001. This award-winning issue is a conceptual project based on an everyday observation of tower cranes from our studio windows and combines a magazine, a CD-Rom and a website.

FL@33 PART OF PUBLIC ADDRESS SYSTEM
Apart from the Emerging Designers exhibition we were coincidentally also part of another exhibition during that same conference – namely the second installment this time in Berlin – of the typographic poster exhibition Public Address System that also took place in London.

FL@33's COMMISSIONED CONFERENCE VIDEO
Our involvement in this design conference also included a viral marketing piece FL@33 was commissioned to create for GraficEurope – a FL@33 video with newsletter promoting the conference.