PRESS ARCHIVE

Graphics Alive!, Viction:ary, featuring B.I.O. (by invitation only) button badges, many Stereohype T-shirts and a screen-printed wedding suit, p.6, pp.95–97, p.141, p.162, Hong Kong, March 2006 (English)
___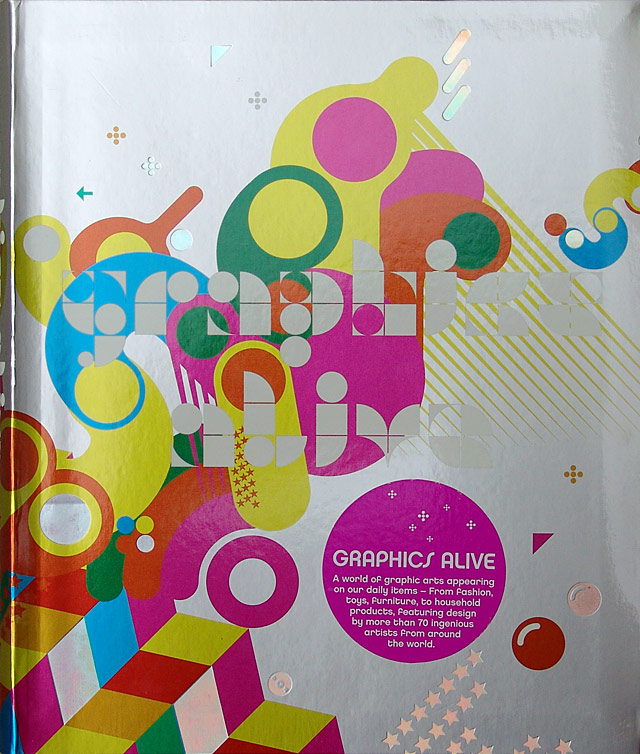 GRAPHICS ALIVE!
The book includes a few of FL@33's contributions to B.I.O. (by invitation only) button badges, many T-shirts including Stereohype Squirrels, 200% Cotton Dogs, Coin-operated Telescopes and various other T-shirts and also a screenprinted wedding suit. Asked by Viction:ary in 2005 what the FL@33 team would consider to be great canvases that have not yet been sufficiently explored – we replied: "Computer towers are still the most dominant and ugly everyday tool / object – especially when it comes to PCs. Their appearance could easily be enhanced with lovely graphics. And it wouldn't even matter whether it's a dull office or funky home environment. Fantastic canvases are obviously cars and they are even mobile".

SELECTED STOCKISTS
(English edition)
amazon.co.uk

amazon.com
amazon.de
amazon.fr
amazon.ca
amazon.co.jp

SPECS
Flexi cover
272 pages

210 x 250mm

ISBN: 978-988-98228-2-8
$40

Published March 2006
Viction:ary


CLICK FOR MORE INFO | OFFICIAL BLURB
Graphics Alive! A world of graphic arts appearing on our daily items | How graphic-design has entered our lives. A wide-ranging survey showing how graphic designers & illustrators are applying their skills in variety of fields. From sneakers to T-shirts, from wallpapers to toys, from furniture to household products, from big to small, from head to toe.
___ Publisher's description: a world of graphic arts appearing on our daily items. From fashion, toys, furniture, to household products, featuring design by more than 70 ingenious artists from around the world. A new graphic arts world is appearing in our lives. Graphic design is everywhere, touching everything we do, everything we see, and everything we buy. The current state of the graphic design industry is a bustling one. Graphic design is no longer the supporting character, but the leader in designing the visual tone of any brand or any product. Every day the effort becomes more and more challenging for today's graphic designers to envision and create unique designs with powerful messages to compete with the multitude of ads that seep into our daily lives.
___ In this book, we talk about graphics that create some kind of relationship with us. It is not only a relationship between audience and the entity, like we would get from reading a book or seeing a poster, but also a relationship with our lives. This relationship encompasses all the design disciplines - including fashion design, architectural design, industrial design, interactive design, etc. Most of us can recognize the value of good design in major undertakings such as building a house; few of us give it much thought in our daily items. Graphics that appear in our daily living and our surroundings are very often mostly neglected or forgotten. To a lot of people, design is like a trend, but rather an art of making objects look beautiful. It is true that many designers are going under the trend, however, good design isn't reliant on anything. It can be made with tools on a computer; it can be made with fabric; it can even be made by a paper box that people are going to dump.
___ Discover the omnipresent power of living graphic design around you. From big to small, from head to toe, the survey comprises of study of top international brands to unique projects by design experts and also up-and-coming designers. | Contributors List: Akinori Oishi, Angela Lidderdale, Antoine+Manuel, Asteria, BIC, Birgit Amadori, Boris Hoppek, Carmen Garcia Huerta, Chillichilly, Container, Dave White, Diana Dart, Dibone, Dustin Amery Hostetler, e-Types, eBoy, eP, Evah Fa, FL@33, Friends With You, fuseproject, Geneviève Gauckler, Grotesk, Hanna Werning, House Industries, JB, Jeremy Ville, Jody Barton, Jon Burgerman, Joshua Longo, Kinpro, Klaus Happaniemi, Koa, Maja Sten, Marc Atlan, MASA, Michael Sans, Miki Amano, Multistorey, MusaCollective, Naughtyfish, National Forest, Neasden Control Centre, Niko Stumpo, Panagrafik, Pandarosa. PKMlta, Potipoti, Raoul Sinier, REBEL8, redstr/collective, Rinzen, The Ronin, Sarah Chihat, ShuffleArt, Shufflesome. SpY, Stefan Marx, Stephanie Wenzel. Stephen Bliss, Suso33, Syrup Helsinki, TADO, Toyculture.com, Trafik, Tsang Kin-wah, Vault49, Viagrafik, Yacada, Yummi Design, Zedz.