PRESS ARCHIVE

CyberArts 2003, international compendium, Hatje Cantz, edited by Hannes Leopoldseder, Christine Schöpf, foreword by Hannes Leopoldseder, Christine Schöpf, bilingual, Prix Ars Electronica 2003, FL@33 profile / Honorary Mention for bzzzpeek.com, category: Net Vision / Net Excellence, pp.58–59, dust jacket front flap, Linz, Austria, October 2003 (English and German)
___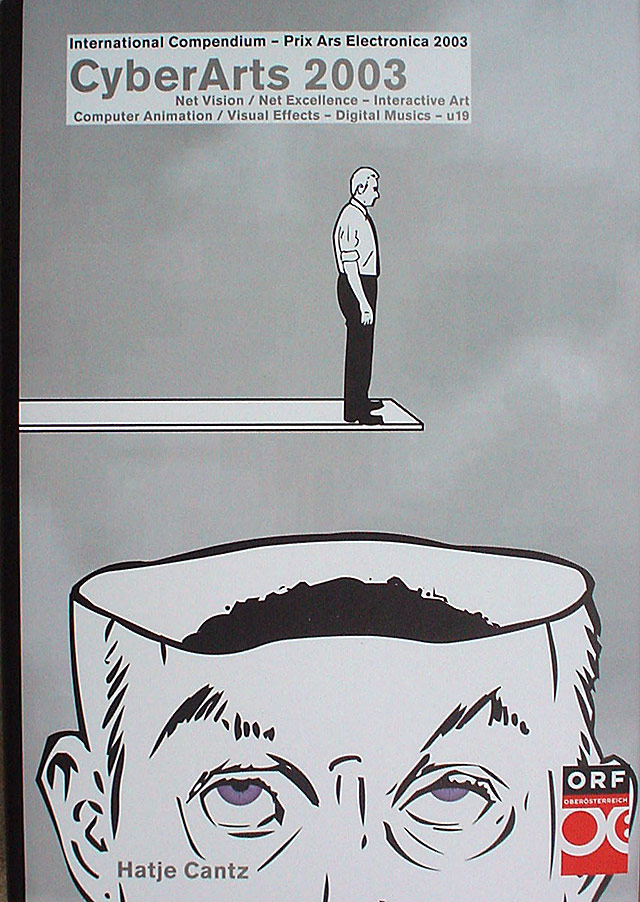 CYBERARTS 2003 | BZZZPEEK.COM
Prix Ars Electronica 2003, FL@33 profile / Honorary Mention for bzzzpeek.com in the category Net Vision / Net Excellence.

JURY STATEMENTS (ENGLISH)
Agathe Jacquillat and Tomi Vollauschek have created a project which is both fascinating and engaging whilst being educational. It makes use of the international nature of the Internet, the ease of introducing user-generated content and the commonality of sounds. It compares in a charming and inviting way the differences in children's sounds between cultures for a number of everyday things.

JURY STATEMENTS (GERMAN)
Agathe Jacquillats und Tomi Vollauscheks Projekt ist sowohl faszinierend als auch unterhaltend und nebenbei auch noch informativ. Es setzt die...
(...) CONTINUE READING
...Internationalität des Internet ein und macht sich die Tatsache zu Nutze, dass User sehr einfach selbst generierten Inhalt ins Netz stellen können, und macht die Ubiquität von Klängen bewusst. Es vergleicht auf charmante und einladende Weise die in unterschiedlichen Kulturen unterschiedlichen Kindergeräusche für eine Anzahl von Dingen des Alltags.

PROJECT | FL@33 PROFILE (ENGLISH)
Net Vision / Net Excellence – Honorary Mention | Bzzzpeek.com | Agathe Jacquillat, Tomi Vollauschek, FL@33 | Bzzzpeek.com is presenting a collection of "onomatopoeia" from around the world using sound recordings from native speakers imitating the sounds of mainly animals and vehicles. This self-initiated project by London-based design studio FL@33 focuses on the pronunciation and comparison of these sounds by presenting them side by side as each language expresses them differently. Bzzzpeek.com is an interactive experience inviting everybody to contribute. Submissions of additional recordings representing missing languages are more than welcome. Concept generation and design have been developed with a family experience in mind. The menu is easy to use and is based on a mainly visual approach to invite a truly international audience to interact. Our audience is mainly families, teachers / educational institutions, designers / artists and musicians / sound artists.
___ Since its launch in September 2002 bzzzpeek.com has been awarded the Distinctive Merit Award by the Art Directors Club New York (ADCNY) and has been site of the day, week and/or month in hundreds of publications and websites such as howdesign.com, yahoo.com, usatoday.com, Time-Out New York, Parisian Radio Nova, amongst others.
___ FL@33 is a multidisciplinary design studio for visual communication founded in July 2001 by Agathe Jacquillat (F) and Tomi Vollauschek (A). The multilingual and multi-specialised graphic design team is based in London. Concept Generation, Print, Screen-based Work, Motion Graphics, Exhibition Design and Publishing are keywords to describe the areas the studio is working in. The award-winning team met in 1999 while studying at the post-graduate Communication Art and Design course at the Royal College of Art, London.

PROJECT | FL@33 PROFILE (GERMAN)
Net Vision / Net Excellence – Honorary Mention | Bzzzpeek.com | Agathe Jacquillat, Tomi Vollauschek, FL@33 | Bzzzpeek.com präsentiert eine Sammlung von Onomatopoeia aus der ganzen Welt und verwendet dafür Tonaufzeichnungen von Sprechern, die in ihrer Muttersprache Geräusche von Tieren und Fahrzeugen imitieren. Dieses vom Londoner Designstudio FL@33 initiierte Projekt...
(...) CONTINUE READING
...konzentriert sich auf die Wiedergabe und den Vergleich dieser Klänge, indem es sie nebeneinander stellt, um deutlich zu machen, dass jede Sprache diese Geräusche unterschiedlich ausdrückt. Bzzzpeek.com ist eine interaktive Erfahrung, die alle zum Mitmachen einlädt. Die Zusendung weiterer Aufnahmen vor allem mit fehlenden Sprachen ist mehr als willkommen. Konzept und Gestaltung wurden mit Hinblick auf Familienfreundlichkeit gestaltet. Das Menü ist einfach zu bedienen und vor allem grafisch aufgebaut, um ein internationales Publikum in die Interaktion einbinden zu können. Unser Publikum besteht vor allem aus Familien, Lehrern und Bildungseinrichtungen, Designern und Künstlern, Musikern und Klangkünstlern.
___ Seit seinem Start im September 2002 wurde bzzzpeek.com mit dem Distinctive Merit Award des Art Directors Club New York (ADCNY) ausgezeichnet und war in Hunderten von Publikationen und Websites wie howdesign.com, yahoo.com, usatoday.com, TimeOut New York, Parisian Radio Nova jeweils Website des Tages, der Woche oder des Monats.
___ FL@33 ist ein im Juli 2001 von Agathe Jacquillat (F) und Tomi Vollauschek (A) gegründetes interdisziplinäres Design Studio für visuelle Kommunikation. Das mehrsprachige und vielseitige Designteam ist in London beheimatet. Konzeptentwicklung.
___ Druck, Bildschirm-Arbeiten, Motion Graphics, Ausstellungsdesign und Publikationen sind die Schlüsselwörter, die das Tätigkeitsfeld des Studios beschreiben. Das preisgekrönte Team traf 1999 zusammen, als seine Mitglieder den Post-Graduate Communication Art and Design-Kurs am Londoner Royal College of Art in London besuchten.

SELECTED STOCKISTS
amazon.co.uk

amazon.com
amazon.de
amazon.fr
amazon.ca
amazon.co.jp

SPECS
Hardcover
268 pages
326 images

240 x 171mm

ISBN: 978-3-7757-1355-9
€ 48,50

Published October 2003
Hatje Cantz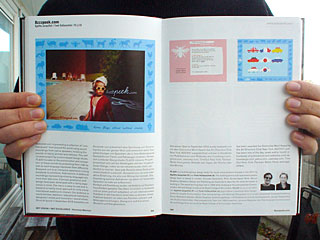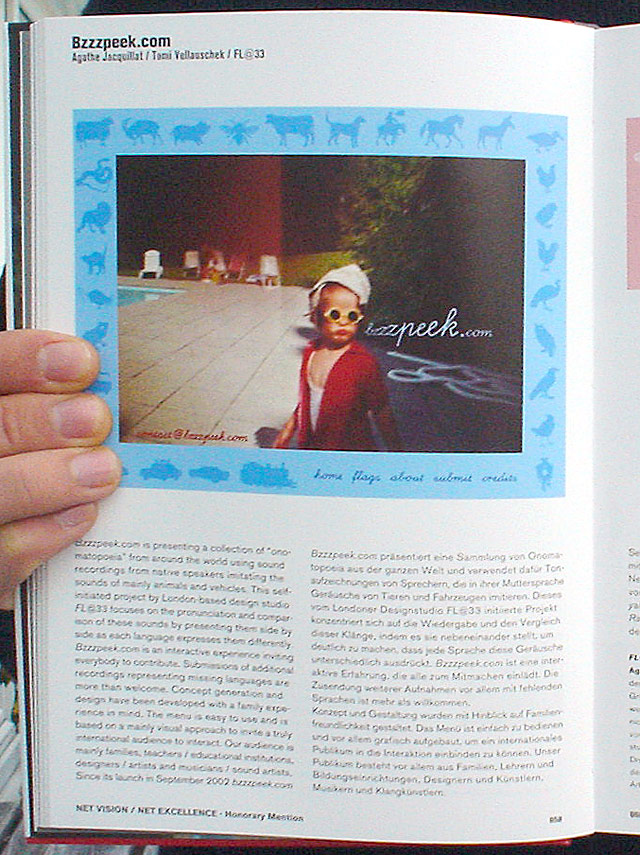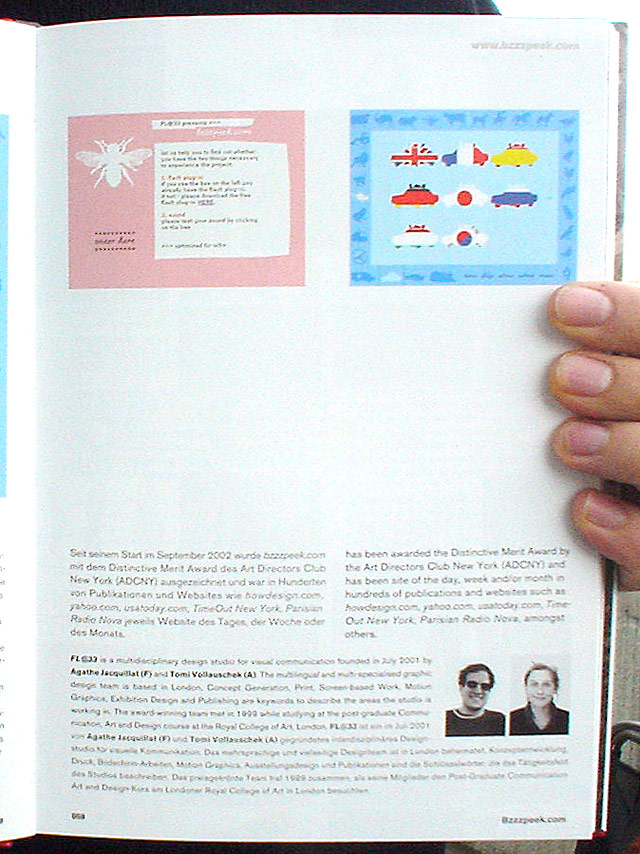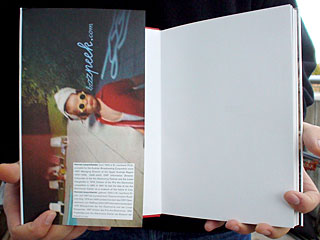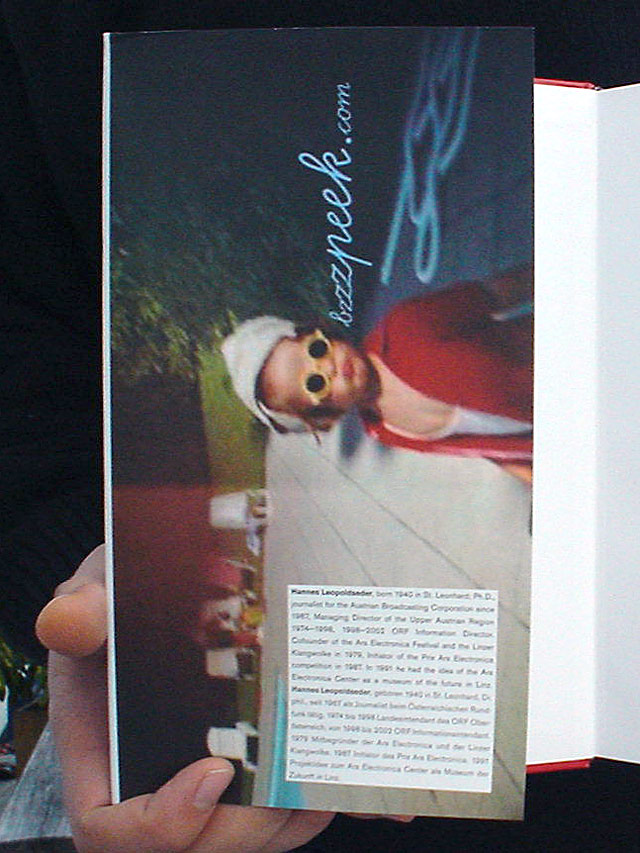 OFFICIAL BLURB (ENGLISH)
Winners of the prestigious Prix Ars Electronica media competition awards for 2003. This complete multimedia reference work comprising a book, a DVD, and a CD presents all of the award-winning works. The annual Ars Electronica festival is conceived as a common platform for artists and researchers from different disciplines in the area of digital media design. In 1987, the Prix Ars Electronica was first awarded by the ORF Regional Studio Upper Austria, and ever since, artists from over sixty countries have submitted more than twenty thousand pieces. As an internationally respected trend barometer of media art, the Prix Ars Electronica impressively illustrates the artistic, cultural, as well as the social implications of digital media, demonstrating the technological state of the arts. CyberArts 2003 presents-in text and image-a representative cross section of the best works in the award categories Computer Animation/ Visual Effects, Interactive Art, Net Vision/Net Excellence, Digital Musics, and u19 Freestyle Computing, all selected by a team of international experts. For the first time, a complete multi-media compendium is included in the package: the book comes with both a DVD with excerpts from the best computer animations and visual effects, and a CD, with excerpts from the category Digital Musics. | Exhibition Schedule: Festival Ars Electronica, Linz September 6 - September 11, 2003

OFFICIAL BLURB (GERMAN)
Sieger und Preisträger des bedeutenden Medien-Wettbewerbs Prix Ars Electronica im Jahr 2003. Ein multimediales Nachschlagewerk mit Buch, DVD...
(...) CONTINUE READING
... und CD stellt die ausgezeichneten Arbeiten vor. Der Prix Ars Electronica, veranstaltet vom ORF Oberösterreich, stellt seit 1987 als Wettbewerb für CyberArts ein international beachtetes Trendbarometer der aktuellen Medienkunst dar. Er illustriert die künstlerisch-kulturellen wie auch gesellschaftlichen Implikationen der digitalen Medien ebenso wie den technologischen State-of-the-Art. Bislang haben Künstler aus aller Welt in Form von rund 20 000 Werken ihre künstlerischen Statements im Bereich aktueller Medien- und Computerkunst abgegeben. Die Qualität der Arbeiten und die rasante Medienentwicklung lassen Künstler und Wissenschaftler alljährlich gespannt auf die aktuellen Wettbewerbsergebnisse und die daraus abzuleitenden Trends und Entwicklungen warten. CyberArts 2003 dokumentiert in einem fundierten Querschnitt die von einem Team internationaler Experten ausgewählten besten Arbeiten der Wettbewerbskategorien »Computeranimation/Visual Effects«, »Interaktive Kunst«, »Net Vision/Net Excellence««, »Digital Musics« und »u19 freestyle computing« in Text und Bild. Erstmals wird ein komplettes multimediales Nachschlagewerk im Paket angeboten: Das umfangreiche Buch wird von einer DVD mit Auszügen der besten Computeranimationen und Visual Effects sowie einer CD mit Ausschnitten der Kategorie »Digital Musics« begleitet. | Festival Ars Electronica, Linz 6.-11.9.2003