PRESS ARCHIVE

De Volkskrant, Newspaper, The 3D Type Book review, Boeken: in Beeld – 3D-Letterontwerp, Alfabet Van Stropdas En Geraspte Kaas, by Bob Witman, p.9, Amsterdam, The Netherlands, 3 September 2011 (Dutch)

download article pdf (scan), approx. 1mb
___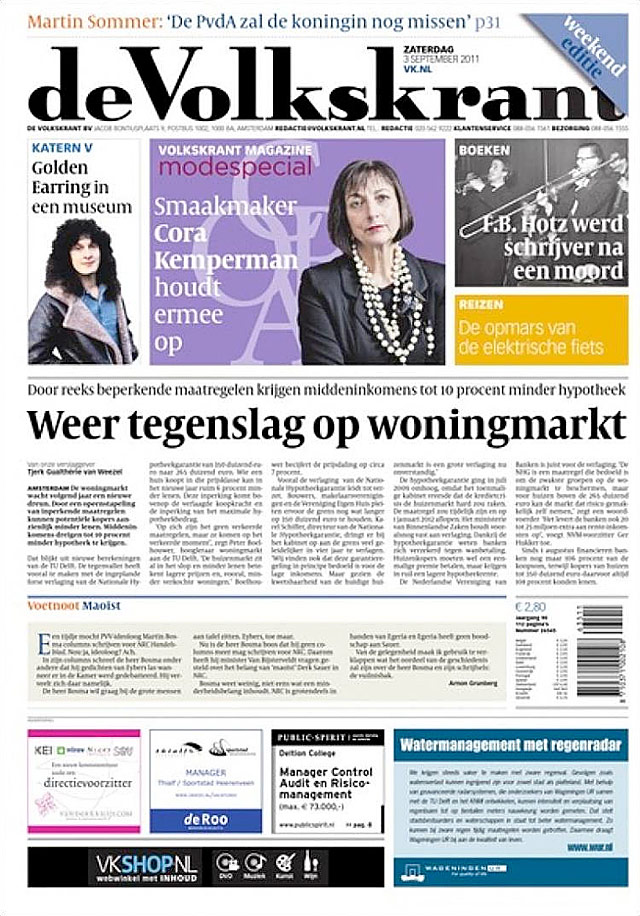 DUTCH THE 3D TYPE BOOK REVIEW
De Volkskrant | Zaterdag, 3 September 2O11
Boeken—IN BEELD: 3D-Letterontwerp
Alfabet van stropdas en geraspte kaas

Het simpelste voorbeeld van 3D typografie is de lettervermicelli in kindersoep. Dat was aanvankelijk ook de inspiratie van twee Britse grafisch ontwerpers om driedimensionale letterfonts te verzamelen. Die collectie zit nu in een boek: letters gemaakt van meisjesstrings,letters van je eigen vel, letters van water, letters van de hemel, letters van je vaders stropdassen of letters van geraspte kaas. De oogst in The 3D Type Book is verbluffend.
___ De term 3D wordt vooral geassocieerd met kunstmatige ruimtelijkheid. Zeker sinds de film Avatar. Het vlak blijft plat, maar de beleving is dat niet. Daar gaat dit boek niet over. Dit gaat over letters als object, als tastbare werkelijkheid, waar je tegen aan kunt lopen, die opduiken in de stad, in het museum of in de natuur.
___ Het boek komt op een moment dat ambachtelijkheid in kunst wordt her ontdekt. De dominantie van digitaal beeld in het dagelijks leven heeft althans bij kunstenaars en vormgevers een verlangen losgemaakt naar fysieke objecten, en handwerk. Ook grafici, die al twintig jaar niets meer doen zonder hun Applecomputer,…
(...) CONTINUE READING
...zijn al een tijdje bezig te ontsnappen aan het platte vlak.
___ Stefan Sagmeister – de gevierde Amerikaans / Oostenrijkse grafisch ontwerper met de Rolling Stones en David Byrne als klant – is een van hen. Hij experimenteert met teksten die opduiken in ruimtelijke vormen: op stadspleinen en in landschappen. Van hem is het werk Self-confidence produces fine results opgenomen. Het is een tekst opgebouwd uit gele en onrijpe bananen. Door de verbruining van het fruit vervaagt de tekst van dag tot dag op een subtiele manier.
___ Er is ook veel toegepaste kunst in dit overzicht. Dolly Rogers, een grafisch kunstenaar in Amsterdam, creëerde een alfabet opgebouwd uit duurzame kleding, ter gelegenheid van Week van de Duurzame Mode. Vormgeefster Miranda van Hooft borduurde enn abc op papier voor een campagne over dyslexie.
___ De inventiviteit werkt aanstekelijk. Het Belgische Please[let]medesign maakte het IQ-font van vier gekleurde bandensporen. Met een autocoureur werd uitgedokterd welke letters de wagen kon trekken. Dat werd vanuit de lucht gefotografeerd. Iets luguberder, maar nauwelijks minder inventief: de letter Skin van Thijs Verbeek. Met behulp van wasknijpers heeft hii zijn vel zo opgeknepen dat een compleet abc is gevormd.
___ Soms heeft een vormgever geen materiaal nodig om letters te maken. Type the Sky is een fotografisch font, waarbij de Duitse Lisa Rienermann vanaf de grond haar camera recht omhoog richt. De dakranden van de bebouwing kiest ze zo dat de uitsparing een letter vormt. Het hele alfabet hangt hier boven je hoofd.
___ Er zijn meer dan driehonderd voor beelden verzameld in The 3D Type Book. Het maakt duidelijk hoeveel vormge vers zich in ruimtelijke typografie verdiepen. Het is de verdienste van de ont werpers van FL@33 om al dat inspirerende werk in een staalkaart bij elkaar te brengen.

Bob Witman

***** Agathe Jacquillat, Tomi Vollauschek / FL@33: The 3D Type Book. Laurence King Publishing; 240 pagina's;
€ 26,50. ISBN 978-1-85669-713-2.

Illustraties uit The 3D Type Book: Onrijpe, groene bananen vormen letters op een ondergrond van gele exemplaren. Ontwerp van Stefan Sagmeister, 2008. Schaduwletters van bureau Cheil USA. Type the Sky, dakranden en luchtpartijen, van Lisa Rienermann. Stropdasletters van Ed Nacional. 'Hola' (Spaans voor 'hallo') in kaasraspletters van Miguel Ramirez. Skin, knijpers in huid, van Thijs Verbeek.