UPDATES IN PROGRESS

PRESS ARCHIVE

Digital Arts, digitalartsonline.co.uk, News, These are the best badges of 2019, by Neil Bennett, London, UK, 28 November 2019 (English)
___

Archive copy of: digitalartsonline.co.uk/...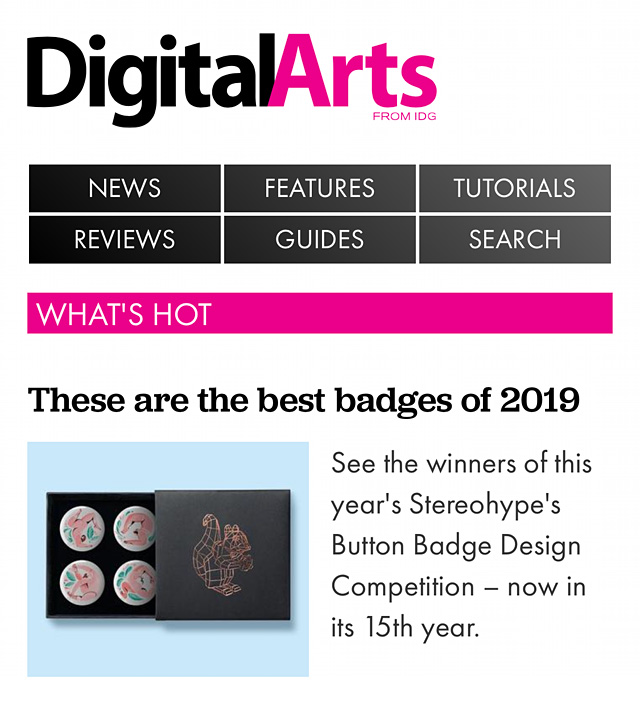 THESE ARE THE BEST BADGES OF 2019
The humble button badge is an unforgiving canvas. Small and designed to be viewed from a distance, great badge designs need to be clear and to the point.
___ To celebrate the best of what's possible on a 25mm round surface, 15 years ago Agathe and Tomi from design studio FL@33 and graphic art label Stereohype created a button design competition, asking artists and designers to submit sets of up to four badges. This has grown over the years, with this year seeing 425 submissions from 146 designers.
___ From these, 23 judges – including myself – pick our favourites and rank them. The results are tallied and first to fifth place are awarded for both individual badges and sets – with Agathe and Tomi also choosing a set and single badge for a special award.

CAPTIONS
2: The overall winning set was created by Romanian illustrator Maria Voichita Popescu.
___ They depict women in athletic poses, but the women shown don't have the usual thin or 'fit' body shapes that you usually associate with illustrations of exercise. It's a wonderful example of body positivity, artfully rendered.
3: The highest-rated single badge is this blissed out, sleeping cat from Tehran-based freelance graphic designer Donya Maghsoudlou.
4: These wonderfully blunt badges were created by Leeds-based freelance designer and illustrator Bobbi Rae. It took second prize for sets.
5: The second prize for a single badge went to designer Richard Horne, aka El Horno, for this button you can spin as suits your mood.
6: Third-prize winner Joseph Dunkerley describes his style as "ultra clean minimalism", depicting "surrealist dreamscapes". The 23 year old multi-disciplinary artist works under the brand of Shallow Lagoon.
7: Everyone loves bees, and you can't not be charmed by this fuzzy, buzzy creation from Marija Jurcikaite. Designing and illustrating under the mantle of Markeris, Marija is from Lithuania and currently living and working in London.
___ This won third prize (single badge).
8: These amphibian badges by Daria Gudkova won the fourth prize for a set. We don't know much about Daria apart that she's a designer from Moscow, Russia.
9: Ben Herskowitz celebrates life's little disappointments with this button badge that took fourth prize (single badge).
10: Piotr Depta-Kleśta runs graphic design studio Poster&sons with his wife. These badges took the fifth prize for a set.
11: Cute aliens ahoy! This fifth prize-winning badge was designed by Melbourne, Australia-based Nic McGuffog.
12: The prizes are rounded off by two special awards chosen by Agathe and Tomi. The set award went to University of Westminster alumni Laura Parker, which mixes the occult with the fanciful.
13: We finish with another Iranian designer. Anis Tabaraee created this imaginatively rendered representation of anger, which took the Stereohype Special Prize for a single badge.