PRESS ARCHIVE

Digital Arts, digitalartsonline.co.uk, News, See the Best Button Badge Designs of 2017, by Miriam Harris, London, UK, 20 November 2017 (English)
___

Archive copy of: digitalartsonline.co.uk/...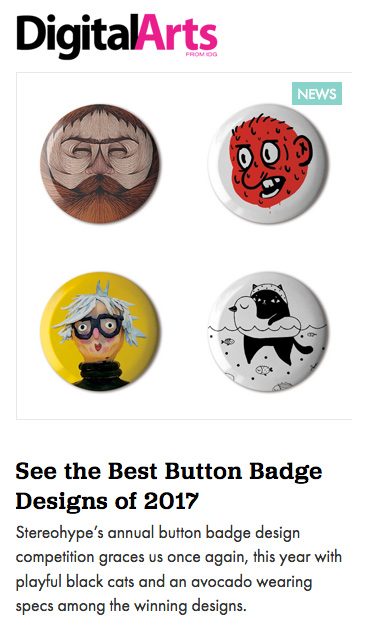 SEE THE BEST BUTTON BADGE DESIGNS OF 2017
Stereohype's annual button badge design competition graces us once again, this year with playful black cats and an avocado wearing specs among the winning designs.
___ London graphic art label Stereohype has announced the winners of its 13th annual Button Badge Design competition, with cheeky characters, colourful cacti, an avocado wearing glasses and black cats among the winning designs.
___ Agathe Jacquillat and Tomi Vollauschek from design studio FL@33 – who are behind Stereohype – celebrate the art of designing a button badge, or a series of designs, with its Button Badge Design Competition every year. After 622 accepted entries from 173 different badge designers in 2017, winners have been chosen for both single badge designs and sets of four.
___ A group of judges – including Digital Arts editor Neil Bennett among other design press – decided on a shortlist of 60 designs, which has been whittled down to 30 runners-up and 30 winners, some of which we showcase here. Six winning sets of four have been chosen, and six single badge winners.
___ The 30 winning badges are now available to purchase, including work by Andi Surya Nusa, Aimee Morris, Magda Lupinska and Egon Swaels.
___ You can also take a look at work from selected international designers, illustrators and artists including Erik Spiekermann (his design is seen here) and Alice Tosey for Stereohype's By Invitation Only Series 17. The artists were invited to submit designs for one inch button badges. These badges are separately sold and given away as a free surprise badge with selected T-shirts.
___ There are also themed gift boxes and 82 new Button Badge motif prints for £25 each, including this year's badge competition winners and By Invitation Only 2017 contributing designs.
___ Take a look at some of the winners of this year's Button Badge Design Competition.

CAPTIONS
1st prize (single badge)—Andi Surya Nusa: Illustrator and designer Andi Surya Nusa is based in Indonesia. He currently works as a freelancer on projects including identity design, illustration and murals – with particular interest in illustration and painting of contemporary portraiture. He's also interested in graphic design, human expression, gesture, behaviour and psychology.
2nd prize (single badge)—Magda Lupinska: Polish art director and illustrator Magda Lupinska has been gaining international experience in Lisbon and Prague. You can check out her experimental character illustrations here.
3rd prize (single badge)—Deep Dawda: Deep Dawda is an India-based animator, character designer, CG generalist and graphic designer. He has worked as a 3D animator in a gaming studio in Mumbai.
4th prize (single badge)—Yuliia Burya: Germany-based web and graphic designer Yuliia Burya works in the youth cultural center. She enjoys being involved in art projects and exhibitions and would like to work for a fashion magazine or create her own clothing collection with prints.
5th prize (single badge)—Mahrukh Khawar: Mahrukh Khawar is currently studying for a Master degree in Brand Design and Food in France, and she's originally a communication designer from Pakistan. Mahrukh has a background in advertising, working for agencies such as Partners and Leo Burnett.
1st prize (set of 4)—Aimee Morris: Hailing from Scotland, Aimee is still studying communication design in Aberdeen. She's an illustrator and sketchbook doodler, with her works based on day-to-day life. Aimee likes to create pieces in 3D out of materials such as paper, found objects, and clay, as seen in this badge series. Her badges feature four of her favourite artists and we sculpted by hand, painted and then photographed.
2nd prize (set of 4)—Gabi Toma: Gabriela is a self-taught graphic designer based in Romania. Combining her background in urban planning and love for illustration, she's created these black and white cat badge designs which are absolutely delightful.
3rd prize (set of 4)—Perle Mecontice: Perle Mecontice uses mixed media and varying techniques and tools that include collage, pens, paint, pencils, inks and prinkmaking. Animals and people are the Belgium-based illustrator's favourite subjects.
4th prize (set of 4)—Egon Swaels: Graphic designer and illustrator from Lille, France, Egon's work is based on mixed experimentations and a touch of fantasy. He uses photography, linocut or black ink.
5th prize (set of 4)—Jaye Kang: Jaye is an illustrator and visual designer from Germany. He dabbles in product illustration, graphic design, pattern design and animation.